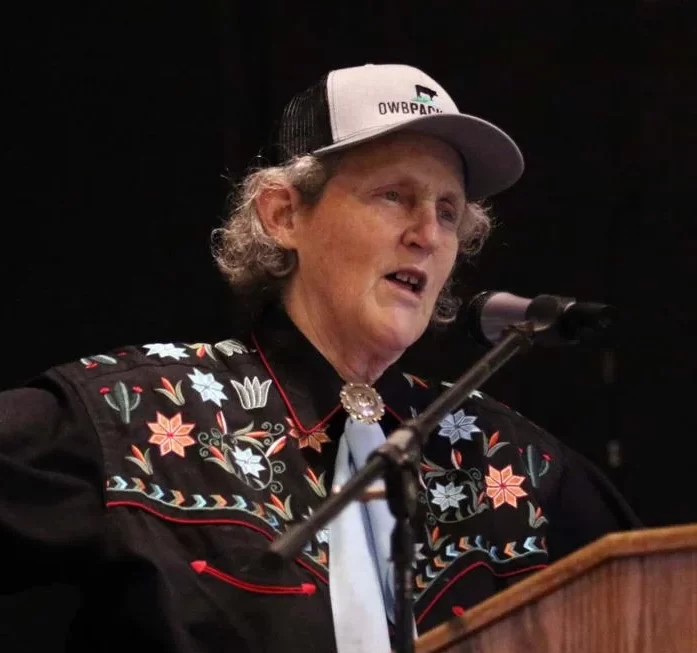 This week, renowned animal welfare expert Dr. Temple Grandin delivered a keynote speech to youth members and parents from the Imperial Valley 4-H and FFA livestock organizations as well as the Autism Support of Imperial County (ASIC), at a hosted dinner event organized and sponsored by One World Beef at the Imperial Valley Fairgrounds. Dr. Grandin's keynote discussed addressing present-day animal welfare issues and her personal reflections on her experiences overcoming obstacles in agribusiness as a minority and person with autism.
With over 400 members across the three organizations in attendance at the event, it was the latest opportunity for locally-owned and -operated One World Beef and its sibling company OWB Packers to reach out to the youth that make up the Imperial Valley's future.
"As a locally-owned and locally-operated business, we want to invest in our community," OWB Packers Vice President for Food Safety Kim Herinckx, said regarding the event. "What better way to do that than to collaborate with an expert who can educate our youth they our leaders of our future?"
"We at One World Beef want to use this event as a way to foster growth and a renewed sense of vitality in our local community, especially in our youth," said Herinckx. "We want to provide opportunities for our community that they may not otherwise have access to this event depicts just that concept."
Dr. Grandin has a long history in the Imperial Valley. Her graduate research in the 1980s covered feedlots in the Imperial Valley, and one of Dr. Grandin's first full livestock receiving designs through harvest was for what is now the OWB Packers plant in Brawley.
"We are excited to welcome and host Dr. Grandin in her return visit to the Imperial Valley as she shares her expertise with current and future leaders in our community," said Eric Brandt, CEO of One World Beef. "We are collaboratively working to further our mutual goal of raising animals humanely."
Dr. Temple Grandin is a published scientist and animal welfare expert. Author of over 400 scientific papers on animal behavior, she is a prominent figure in animal welfare and one of the livestock industry's leading consultants. As an individual with autism, she also acts as an autism spokesperson and has written multiple books, including "Thinking in Pictures" about her experiences. Her life is the subject of Emmy and Golden Globe winning HBO film "Temple Grandin, staring Claire Danes."
One World Beef and its sibling company OWB Packers are locally-owned and -operated businesses that toll process beef for customers across the Western United States with global distribution of its brands.
See press coverage from the Desert Review and the Imperial Valley Press.
Comments are closed