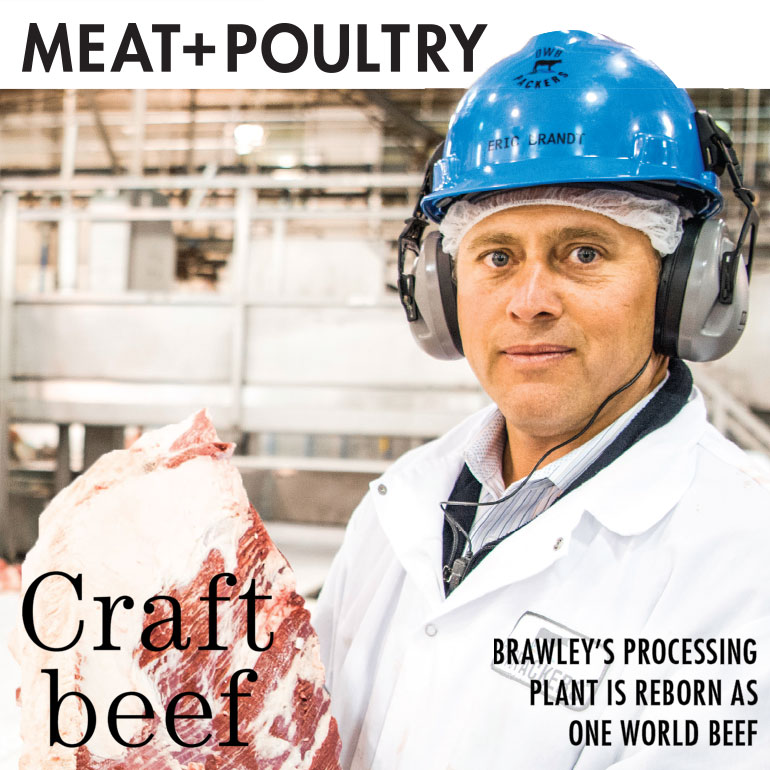 Brawley's storied processing plant
is reborn as
One World Beef
BY STEVE KAY | meatpoultry@sosland.com
Eric Brandt fist-bumps employees as he walks through One World Beef's
fabrication department. The work pace is leisurely enough that workers raise their heads when they see him and give him a broad smile. One woman even waves both arms in the air and gives him the thumbs up.Brandt, One World Beef's young and charismatic CEO, is a rock star in the eyes of the 179 people who currently staff the company's beef processing plant in Brawley, California (which operates as OWB Packers LLC). The vast majority of the workers are Hispanic, but Brandt speaks fluent Spanish so he has an easy rapport with them. According to Brandt, the real rock stars are the workers themselves. He knows most of them by name and their history with the plant. Some date
back to when the plant opened in late 2001.
"The craft beef we are producing is a reflection of the character
of the team, the beef itself and the respect we have for the animals we are
sacrificing."

– ERIC BRANDT
The plant opened after eight cattle feeder/owners in the Imperial Valley of southern California and Arizona realized their long-held dream of having a world-class beef plant in the valley. Cattle feeding and crop farming have long dominated the valley, but the cattle feeders saw their marketing options diminish every time a beef plant closed in Vernon, California, so they invested more than $80 million to build the plant. They even named the company Brawley Beef LLC after the city.
Click here to read entire article from MEAT+POULTRY